Log In Quickly And Easily
How do I bookmark ProCoach, use it as an "app" on a mobile device or tablet, and save log-in information?
 
As we covered already, there is now a Dedicated Mobile App that you can install. However, if you choose not to use the app just know that we've made your programme dashboard extremely mobile-friendly and we guarantee your programme dashboards will work in the latest versions of the major browsers:
Google Chrome

Mozilla Firefox

Apple Safari

Microsoft Edge

Samsung Internet

[ Note: The above list represents 95% of browsers used around the world. They are all available for free from their respective manufacturers. ]

With that said, many clients still like having an icon on their tablet or phone so they can easily access their daily ProCoach content. The good news? This is really easy to do with bookmarks and shortcuts (just like we showed you in the video above).

Now, you don't have to do the following. You can always use the link sent in your daily email notification. However, if you really want that little icon thingy, here's how to get it.

How To Add A Home Screen Icon:
A "Home Screen icon" is a shortcut added to an iOS or Android mobile device.
Like this: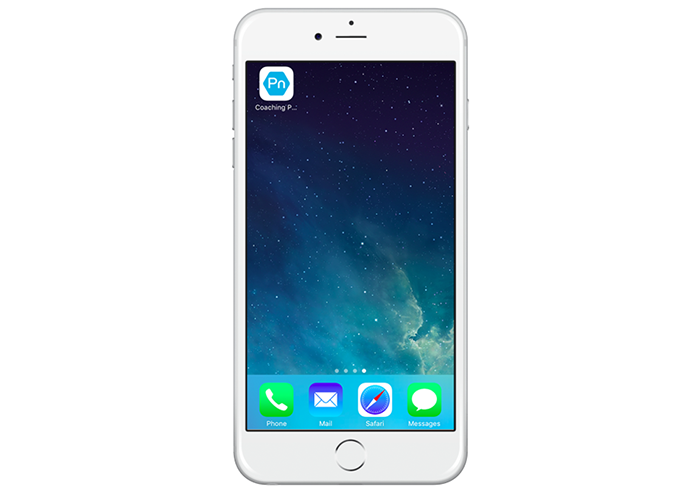 Tapping this icon will open the internet shortcut (a website address) in the native browser App. For iOS devices, this is Safari. In Android devices, this is Chrome. In addition to the video above, we've also listed the steps below for adding a Home Screen icon on either device.
For Apple iOS devices (iPhones, iPods and iPads):
Open the Safari browser app

Open the Sign In screen:

https://my.precisionnutrition.com

 

At the bottom, tap the Share button (this looks like a square with an upwards-pointing arrow).

Tap on "Add to Home Screen"

For most Android devices:
Open the Chrome browser app

Open the Sign In screen:

https://my.precisionnutrition.com

 

Tap the menu button (this usually looks like three vertical dots or lines)

Tap on "Page"

Tap on "Add to Home Screen"
[ Important: After adding this, you may be prompted to re-enter your username and password whenever you tap this Home Screen icon, switch from another App or lock the device. However, you may be able to save your login credentials (username and/or password) in your settings. You'll need to check with the device manufacturer's website for these instructions, as they vary greatly between models and versions. ]
Add A Bookmark or Favourite:

While adding a Home Screen icon is convenient, it can also have potentially frustrating side effects (eg. having to log in every time you want to go to your Today page).
Another option is to add a bookmark or favorite within the browser itself.
This option will work across all devices and computers, it's not just limited to Safari on iOS devices or Chrome on Android devices.
It's also possible to store the login credentials (username and password) in the settings, and remain logged in to the program dashboard.
To bookmark or favorite, go to: https://my.precisionnutrition.com
Here are the instructions for each of the major web browsers:
Mozilla Firefox

Apple Safari

Microsoft Edge

Samsung Internet
[ Note: If you use an older version or a different browser entirely, you'll see an "unsupported browser" message. Your programme dashboard may still work, but we cannot guarantee that it will. It's best practice to update to the latest and greatest version to keep your programme dashboard secure and private. ]
Download The App:
The Apple iOS Mobile App now available, and we are working on an Android version as well.
Here's the link to it in the App Store: https://get.pn/iosapp
Learn more about the app here...