Maybe it's been a while since you've been in shape, felt energised throughout your entire day, or felt capable and confident enough to do what you truly want...
If you're ready to have the body you want and get in control of your health and fitness once and for all, we're ready to help.

You've tried doing it alone. Now try with someone who's ready to bring a commitment that's as serious as your own.

We've dedicated our professional lives to helping people transform their bodies through nutrition and fitness. And the team at Precision Nutrition has done the same.

This is your limited opportunity to work with the best coaching team in the industry - to look, feel, and perform better than you thought possible. You'll soon discover we do health and fitness in a way that works... Because it fits into your life - not the other way around.

We hope to have the opportunity to help you transform your body and life forever.
But the next step is up to you... Go Ahead, Click On The Button Below That Works Best For You And Lets Get Started!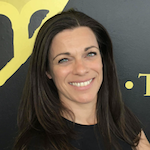 Gemma Abrahams
Newton Lowndes
BSc. ACSM. TFW. PN.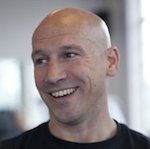 "Within 12 months, we'll help you get in the best shape of your life - and stay that way for good. You will feel stronger, more capable, more confident, and more free than you have in a long time!"

You'll Get The Best Personal Nutrition Coaching - Complete With Daily Practices, Lessons, And Workouts - Click The Buttons Below To Learn More...
This Is Going To Transform Your Body ...

FOREVER

!
Online Nutrition Coaching

.

Flexible Workout Plans

.

Step By Step Guidance
Online Nutrition Coaching

.

Flexible Workout Plans

.

Step By Step Guidance And Coaching
First... You Tell Us What You Want. You'll start by telling us all about yourself, including your goals, health challenges, and daily routine. You tell us your goals and we'll help you get there. 

From There, We'll Customise Your Programme. We'll start the proven 12-month coaching process and give you everything you need to look, feel, and perform better than you ever thought possible.

We'll Guide You Step-By-Step through a sustainable, practice-based approach to build healthy nutrition habits into your life, one day at a time. We'll help you focus on the small practices that lead to big results.
Instead Of The All-Or-Nothing Dieting Approach. We'll use the Precision Nutrition coaching method, developed by the world's top nutrition researchers and has been proven to work 100,000 times over.

You'll Also Have Complete Access To our full gym workouts, at home workouts, and quick express workouts for those days when you don't have much time. All supported with easy to follow videos.

The Result... You'll Lose The Weight (and inches) You Haven't Been Able To Shed For Years. You'll have more energy than ever before, you'll build physical strength & find new confidence in your body.
"I'm a whole new person. Precision Nutrition gave me all the tools and motivation to make it happen. I cannot stress enough how much it changes your life."  
Lindsey, lost 44lbs
PN Coaching client
"This is like no other program you've tried or heard about. It leads you and gives you the tools and support to achieve the results you want.'m a whole new person." 
Rich, lost 50lbs
PN Coaching client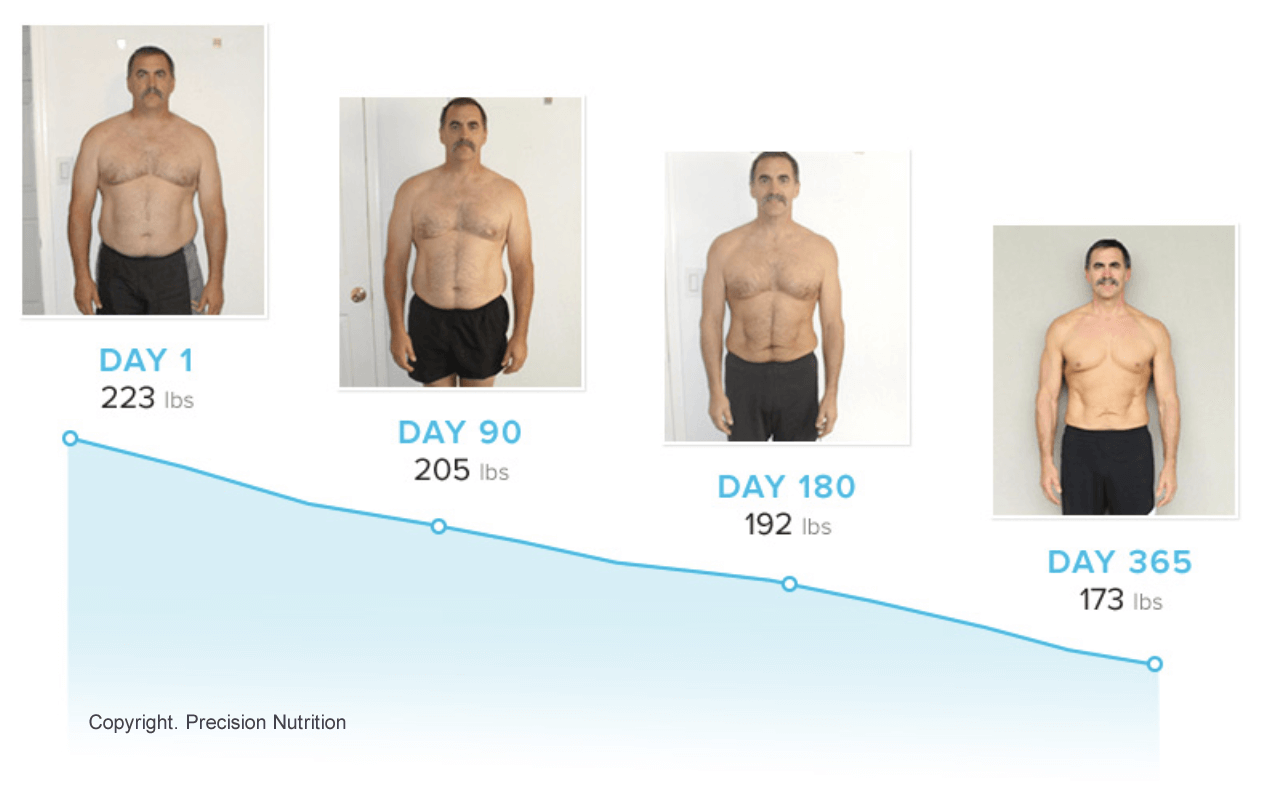 A: ProCoach Nutrition Includes:
 
A structured year-long nutrition program

to help keep you consistent.
An expert coach to give you feedback, make adjustments, and help keep you accountable.
Strategic daily nutrition practices that fit into your lifestyle.
Expert-designed (yet optional) exercise programs, customized to your skill level, goals, and time available.
$20,000 in prize money. We stack the deck in your favour and give you something positive to shoot for if you wish.
Guaranteed results. Stick with us for a year, and if you don't get what you're looking for, you get a full refund.
A: ProCoach Nutrition is for women and men who want to get healthier, fitter, and stronger — and stay that way for the rest of their lives.

It's for people who want to…
Lose weight and body fat

Build physical strength and confidence

Get results that last

and get off the diet rollercoaster once and for all

Plus, the program is designed for people with busy schedules.
We work closely with our clients to help them eat well and exercise, no matter what other craziness is going on in their lives.
We provide you with personal accountability, a structured nutritional program to follow, and a coach to help keep you consistent and on-track.
We don't give you a crazy diet or exercise program to follow; instead, we help you build habits that will get you results that last forever.

ProCoach Nutrition is NOT for figure or fitness models, professional bodybuilders, or high-level athletes training for a particular sport.
It's also not for people who already have all the accountability they need.
If you rarely struggle with staying consistent with your exercise or eating habits, then we're not a good choice for you.
A: Want To Lose Weight? Eat Better? Feel Less Stressed? Get More Sleep? Have More Energy?
If you follow our recommendations and stick with us for the full year then yes, you will get results.
If you participate in ProCoach Nutrition, do at least 80 percent of what we ask you to do, you'll end up leaner, stronger, healthier, and happier with your body than you ever thought possible.
You don't have to get it perfect. But you have to commit to making small, strategic changes in your life.
That's something no one ever likes to admit about getting in better shape: It takes hard work, time, and determination.
Changing your body isn't easy, but it is possible. For 15 years we've helped thousands of people do all that and more. No other company has that track record, and we're confident we can help you, too.
Once you make the commitment to get in better shape, we'll be with you every step of the way. When life pushes you around and difficulties come up, we'll help you push back.
We'll stack the deck in your favor and give you every advantage we know of. Over the course of 12 months, you'll learn everything you need to look, feel, and perform at your best.
That's our promise.
A: You Can Enrol On The Program At Any Time. 
After you have enrolled your program starts one week later. We spend this first week as a preparation week - making sure you have everything you need to get you off to a great start.
A: The ProCoach Nutrition Program Lasts For 12 Months.
Based on our continued research, we've found a full year to be the most effective time period for building the habits necessary for lifelong health and fitness.
Our coaching team is committed to helping you make a life-changing transformation. That's why we have everyone commit to the program for 12 months.
A: We Are Both Qualified And Certified Nutrition Coaches And Fitness Professionals.
We live and breathe this stuff everyday. For the past 20 years we've dedicated our professional lives to helping men and women transform their bodies through nutrition and fitness. Helping them... look, feel, and perform better than they every thought possible.
We are both Certified... Precision Nutrition Coaches, Training For Warriors Coaches and FitBody Formula Coaches and have teamed up with Precision Nutrition to provide you with proven strategies that work - no matter where you are in the world!
Together with us and Precision Nutrition you have access to the best nutrition and lifestyle coaching team in the world. Made up of the best nutritionists, strength coaches, counsellors, researchers, and specialists in the field.

Newton Lowndes, BSc.(Hons) Biological Sciences and Nutrition, ACSM, Certified TFW Coach - Level 2, FitBody Formula Master Coach, and Certified Precision Nutrition Coach.
Gemma Abrahams, Certified TFW Coach - Level 2, FitBody Formula Master Coach, and Certified Precision Nutrition Coach.
A: The Exclusive Special Offer Price: Choose from a one-time payment of £464, or £47 per month for 12 months.
This is the lowest price we've ever offered!
Note: This discount is only for people who have access to this special offer page; the general public pays either £997 up front, or £97 per month for 12 months.
We offer this discount to people who sign up for the special offer for one reason: the people who are most eager and willing to take action are usually our best clients. That's why we reward them with a discount and a chance to get in before everyone else.
A: Nope, you don't have to join a gym to be successful with ProCoach Nutrition.
All the exercise programs can be performed at a gym or at home.
A: If you already work with a Personal Trainer and you want to continue with both, that'll work!
In fact, I think with us at, ProCoach Nutrition AND your in-person coach, you'll be unstoppable.
Once you sign up, just let your coach know that you're working with a local trainer and we'll make sure to integrate the two.
Also, If you like to... (TFW, Crossfit, run, bike, swim, ski, do group exercise classes, walk my dog, etc). You can I still do the stuff you love while getting coaching from us.
That's the whole point of ProCoach Nutrition - to learn how to eat and exercise in a way that works for you.
Health and fitness should be fun, freeing and sustainable. It's about helping you live a fuller life. So yes, if anything, the program will help you do more of the things you love.
Once you get started, your coach will work with you to structure things in a way that works for your lifestyle.
A: Yes.
We all go through injuries, so we understand where you're coming from.
In fact, Newton suffered a complete tear to his Achilles Tendon whilst preparing for the World Kickboxing Championships in 2017.
By following our rehabilitation programme he is now back on his feet and successfully competing again.
With ProCoach Nutrition, we can tailor certain exercises to help fit your needs.
Once you've signed up, you'll simply work with your coach to find some easy and effective alternatives.
A: The nutrition habits your coach will guide you through are easily customisable regardless of your food preferences.
So whether you follow a special diet (plant-based, vegan, Paleo, intermittent fasting) we would love to work with you.
All you have to do is let your coach know what your dietary preferences/restrictions are and they'll help you out.
A: When it comes to food, most clients actually end up saving money on their grocery bills.
This is because they make more informed, careful decisions, eat out less, and spend fewer less on processed novelty foods, replacing them with whole, delicious natural foods.
As for supplements, we may recommend a few health-oriented products, based on your unique needs and goals. However, these are completely optional.
FitBody Formula's
|
ProCoach Nutrition

Online Nutrition Coaching

.

Flexible Workout Plans

.

Step By Step Guidance
Powered by Precision Nutrition - named "one of the Most Innovative Companies in Fitness" by Fast Company magazine. More Importantly Though... it's where the pros turn to for exercise nutrition advice. Olympic gold medalists, pro sports teams, elite athletes, and Fortune 100 companies Have All Used or Been Consulted By This System.